The biggest and only rival is Formosa
The influx of investment capital in the textile and dyeing industry in Vietnam is increasing, making Vietnam a center for supplying fabrics and accessories for Southeast Asian countries. Many global brands have continued to shift apparel orders from China to Vietnam to take advantage of trade agreements such as VKFTA, EVFTA, CPTPP. Century Yarn also benefits from this.
Long fibers (the main product of Century Yarn) are a component of synthetic fibers, accounting for the largest proportion in man-made fibers in particular and the fiber industry in general.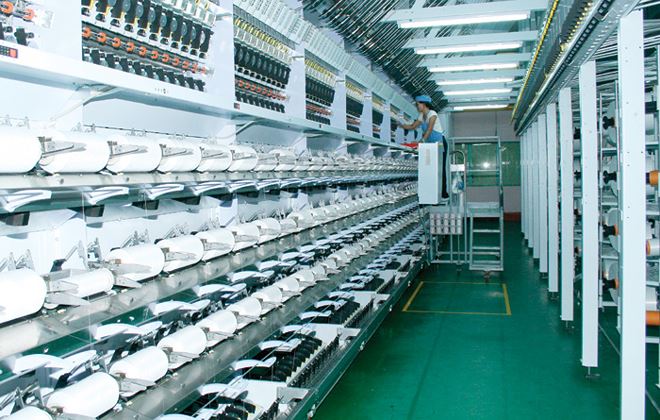 Năm 2017, sản lượng tiêu thụ của Sợi Thế Kỷ đạt gần 54.000 tấn sợi, bằng 96,7% kế hoạch; doanh thu thuần vượt 4% so với kế hoạch, đạt 1.989 tỷ đồng; lợi nhuận tăng hơn 14%, đạt 99,6 tỷ đồng
Century Yarn has 2 factories now
Cu Chi and Trang Bang (Tay Ninh), with a total annual capacity of over 60,000 tons of DTY (long staple yarn), FDY (fully stretched yarn) and recycled yarn, bringing in revenue of nearly VND 2,000 billion in 2017. .
The trend of price competition has been a challenge for most businesses in the industry. However, in the high-end segment, the price competition is lower than the yarn quality and yarn pressure.
Mr. Dang Trieu Hoa, Chairman of the Board of the Century Yarn, said that the biggest and only competitor to the Century Yarn is Formosa.
According to the General Department of Customs and Century Yarn, Formosa Hung Nghiep has the largest export value, accounting for 41% of the total value of long fiber exports (2017). Ranked No. 2 is Century Yarn with 28% market share (2017).
Developing recycled and colored yarns
The gross profit of recycled and colored yarns is currently at 20%, double that of other Century Yarn products. Therefore, Century Textile has cooperated with E.DYE Limited (Hong Kong) to establish a joint venture company E.EDYE Vietnam, develop a color fiber production project, with a total investment of USD 10 million. Ants come into operation from the third quarter of 2018, with a capacity of 6,120 tons / year.
In addition, this company is implementing Trang Bang 5 Project, with a total investment of VND 129.3 billion, of which 70% is borrowed capital, expected to come into operation in the first quarter of 2019. The project will increase 10% of DTY yarn capacity, reaching 3,300 tons and a 1,500 tons recycled yarn line.
The convolution project and the supply chain alliance project are still under negotiation. However, Management Board of Century Fibers said that these are promising projects to create new steps in the Company's business activities in the future.
Management of the Century Yarn said, in at least the next 2 years, the Company will focus on the factor "quality", instead of "volume" to increase market share. Accordingly, the Company continues to expand value-added products for sports, medicine, and children … In addition, Century Fiber will optimize the main export markets such as Japan, Korea, Thailand, as well as exploiting more markets Indonesia, Mexico …
"Maybe, after 2019, we only consider expanding the factory to increase capacity. The Century yarn does not go in a way of expanding the scale without paying attention to quality, so as to be in a state of price competition ", Mr. Dang Trieu Hoa shared.
By the end of 2017, the production of Century Yarn reached nearly 54,000 tons, equal to 96.7% of the plan, but the average selling price was higher than 8%, although raw material prices also increased, so net sales exceeded 4% of the plan, reaching VND 1,989 billion. Profit increased by over 14%, reaching VND 99.6 billion.
The revenue plan of Century Yarn in 2018 is VND 2,354 billion, up 18%; profit of 125.8 billion.
According to the plan, recycled fiber can increase the proportion of the total revenue of Century Yarn from 6% in 2017 to 14% in 2018 and account for 30% in 2020.
"Customers who buy colored and recycled yarns are still existing partners of the Company. Most of them are reducing the proportion of primary fibers to switch to the above fibers, aiming to sustainable development. Therefore, our investment is also a way to catch the trend, "said Chairman of Century Yarn.